My Time Tested Travel Tips – 8 Must Haves For Your Next Trip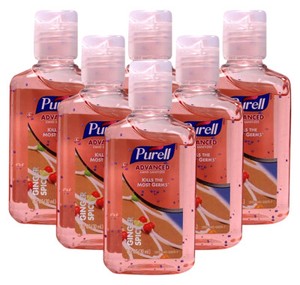 My husband always laughs at how planned and organized I am, but I'm sure they will save you a lot of energy and hassle too. Keep this handy for your next trip this holiday season!
1. Pack basic skincare, underwear and a top in your carry-on luggage:
Unexpected sometime happens when you travel. Flight delays, technical problems and poor weather condition can cause you stay overnight at a hotel or airport and you may not be able to get your checked baggage. Once I missed my connecting flight after flying for 12 hours. It was late at night and I didn't want to wait for another couple of hours to pick up my luggage! Having these things in your carry-on luggage equips you for such an unexpected trouble and keeps you feeling fresh. A piece of panty liners can also do a job instead of a panty.
2. Keep hand sanitizer in your purse:
When you travel, you must be extra careful about your hygiene because airports and planes are full of germs! We have all at one point or another heard someone in the seat behind us having a gurgling cough and sneezing, right? I always bring a first aid kit, propolis spray for my throat and lots of vitamins when I travel because dehydration, fatigue and lack of sleep make you extremely susceptible for getting sick.
3. Eat light:
Have you ever felt so bloated after meals on a plane? In addition to time change, lack of movement and sleep mess up your biological clock and affects your digestion. Taking a lot of vegetable and fruits not only make you feel better, but it also strengthens your immune system. Some airlines have a great variety of vegetarian meals, but some are horrible! Pack some nutrition bars and mix nuts in your bag. Getting salad and cut-fruits from the airport is a great idea in case your airline gives you a starvation diet. (Yes, it does happen!)
4. Bring your tea bag:
I don't know why coffees and teas taste so bad on a plane. I take a few bags of herb tea with me which taste much better, make me relax and I love it!
5. Get a stylish travel wallet:
I bought a travel wallet from BCBG (hyperlink: ) a few months ago and it was a great investment. It's sleek and looks like a clutch, and keeps my passport, travel documents and cards in one place. Don't we women always like to travel in style?
6. Take a pair of flight socks with you:
Have you experienced that your foot become so swollen and cannot fit in your shoes at the end of the flight? If you haven't tried a flight socks, you must try it! It keeps your legs and foot tight and light. It's great especially when you are wearing boots.
7. Bring along an empty water bottle:
Water is so important to keep you hydrated in the harsh conditions of traveling, but some countries don't allow you bring in a bottle of water even if you bought it at the airport. Take an empty water bottle with you and ask flight attendants to fill up during your flight.
8. Try Rescue Remedy for your baby:
This time I flew with my sister and my nephew and I totally respect mothers traveling with their babies! As much as we don't like traveling in a long flight, sleeping in an uncomfortable bassinet and being quiet are a torture for our little active creatures! In your next travel, try Bach Rescue Remedy when your baby is cranky from earache, insomnia and hyperactivity. It helps them remain calm and relaxed and helps them to cope with stress and anxiety. It's great for mums too!
Happy travels!